Recycling of Lithium Metal Batteries
EST treats lithium metal batteries in order to remove the hazardous components and recycle the residual materials they contain.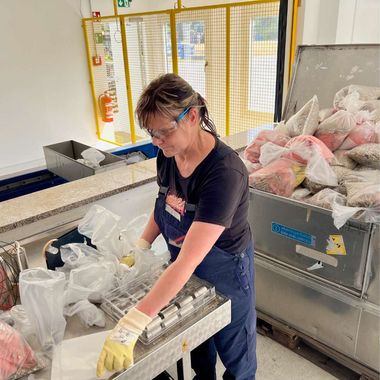 Professional battery handling
EST Energetics' treatment of Lithium batteries removes all dangerous components from the batteries so that the inertized remains can be recycled. During this process primary cells (non rechargeable) and secondary cells (rechargeable) are treated in a safe and environmentally friendly manner. Batteries are accepted in loaded, partially unloaded or empty condition.
We are a reliable partner for recycling and recovery of:
Primary cells:
thionyl chloride cells, sulfur dioxide cells
lithium manganese cells, high temperature cells
thermal batteries, packs or batteries of these cells
battery packs for defense applications
We are a reliable partner for battery return system organizations, battery OEMs as well as end-users from the civilian and defense sector.
Your inquiries
Are you interested or do you have any questions? Then please use the contact form or call us directly.